Regulation of gene expression and parasite-parasite interactions in African trypanosomes
African trypanosomes are unicellular parasites that cause two diseases – human sleeping sickness and the animal disease Nagana. Related parasites cause Chagas Disease in South America and various forms of Leishmaniasis worldwide. African trypanosomes cycle between two hosts - tsetse fly and mammal – that provide them with radically different environments. Although trypanosomes can pre-adapt for transmission from the mammal to the tsetse fly, and vice versa, they cannot foresee when this will occur. The fly stages in particular are confronted with shifts in temperature, variation in nutrients and the presence of other microbes. While the importance of post-transcriptional control of gene expression is undisputed (and a long-standing topic of our research) the contribution of transcriptional control may have been underestimated. Another area that is still largely unexplored is how parasites within a community interact with each other and influence behaviour and gene expression. Finally, we are continuing our analysis of genes required for successful transmission and studying the transcriptome of parasites as they progress through the fly host.
Research
Unusual features of gene expression
Trypanosomes branched early in the eukaryotic lineage and several features of gene expression deviate from those in more "mainstream" eukaryotes. The vast majority of protein-coding genes in trypanosomes are organised in polycistronic transcription units; these are transcribed as polycistronic precursor RNAs and co-transcriptionally processed into monocistronic mRNAs by trans-splicing and polyadenylation. Trypanosomes possess basal transcription factors, but lack recognisable orthologues of many factors required for transcription elongation and mRNA export in other eukaryotes.
Retrotransposon hotspot (RHS) proteins constitute 7 sub-families They are found exclusively in the trypanosome clade. Because of their complexity and abundance, RHS have often been discarded from transcriptomic and proteomic analyses and this, together with the absence of homology to any other known proteins, made it challenging to predict their functions. We recently showed that RHS2, RHS4 and RHS6 sub-families are required for transcription (Florini et al., 2019). ChIP analyses demonstrated that these 3 RHS are associated with RNA Polymerase II transcription units, and that their binding is reduced in Pol I transcription units and absent from silent regions of the genome.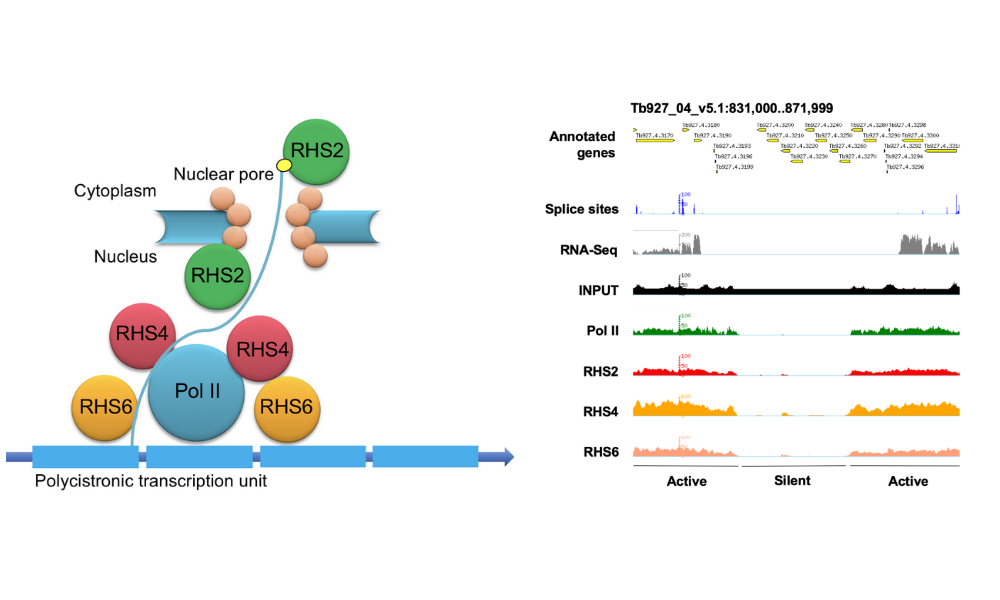 While analysing RHS proteins, we established procedures for labelling nascent RNAs with 5-ethynyl uridine (5-EU) and performed global run-on sequencing (GRO-Seq). This revealed that transcripts from different chromosomes and, even more surprisingly, from genes within the same polycistronic transcription unit, showed vastly different levels of incorporation of 5-EU. One reason for these results might be the architecture of the trypanosome nucleus, such that different regions of the genome are not equally accessible to exogenous nucleotides. Alternatively, the differences might due to selective export or retention of transcripts or to certain transcripts being degraded co-transcriptionally or shortly before export. More controversially, different regions within a polycistronic transcription unit may be transcribed to different extents. We will investigate this in the context of a grant recently funded by the Swiss National Science Foundation.
How do trypanosomes communicate?
Social motility (SoMo) describes the coordinated group movement of early procyclic (tsetse midgut ) form trypanosomes on a semi-solid surface. When trypanosomes are inoculated onto the surface of an agarose plate, they initially grow at the inoculation site; once they reach a threshold number, they form radial projections that move outwards at a rate of 500 body lengths per day. This behaviour implies that cells are producing migration factors that might be soluble and/or cell-associated. Interestingly, two communities derived from the same inoculum can sense each other and reorient to avoid contact, indicating that they produce and sense repellents. Finally, the cells might also produce surfactants/lubricants that allow them to move as a group.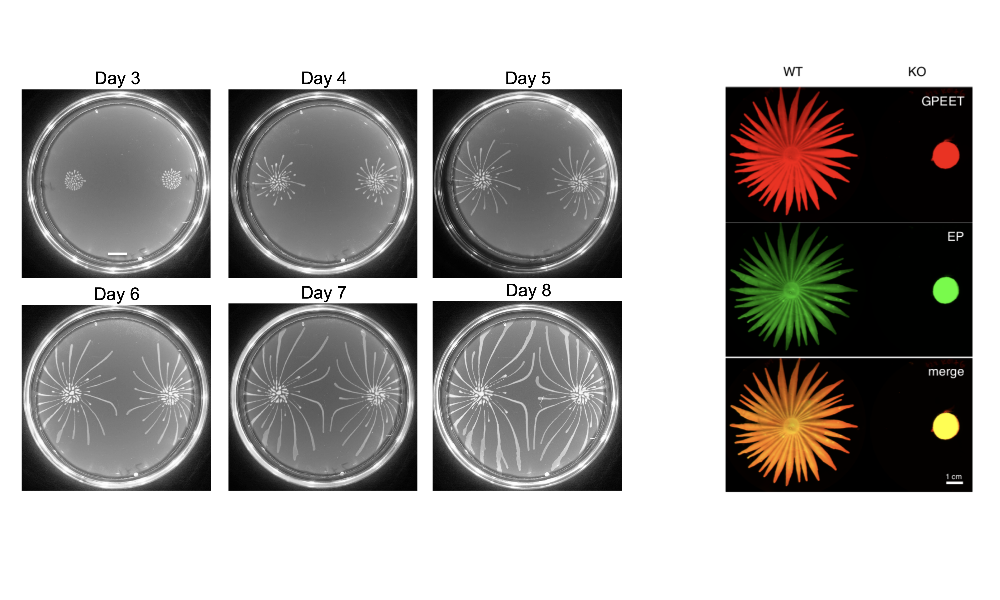 Does this behaviour reflect an event in the trypanosome life-cycle? In collaboration with Kent Hill's laboratory at UCLA, we recently showed that cyclic AMP signalling is required both for SoMo and for trypanosomes to cross a barrier, the peritrophic matrix, in the tsetse midgut (Shaw/DeMarco et al., 2019). We are currently performing screens for additional genes involved in SoMo and studying the nature of the migration and repellent factors.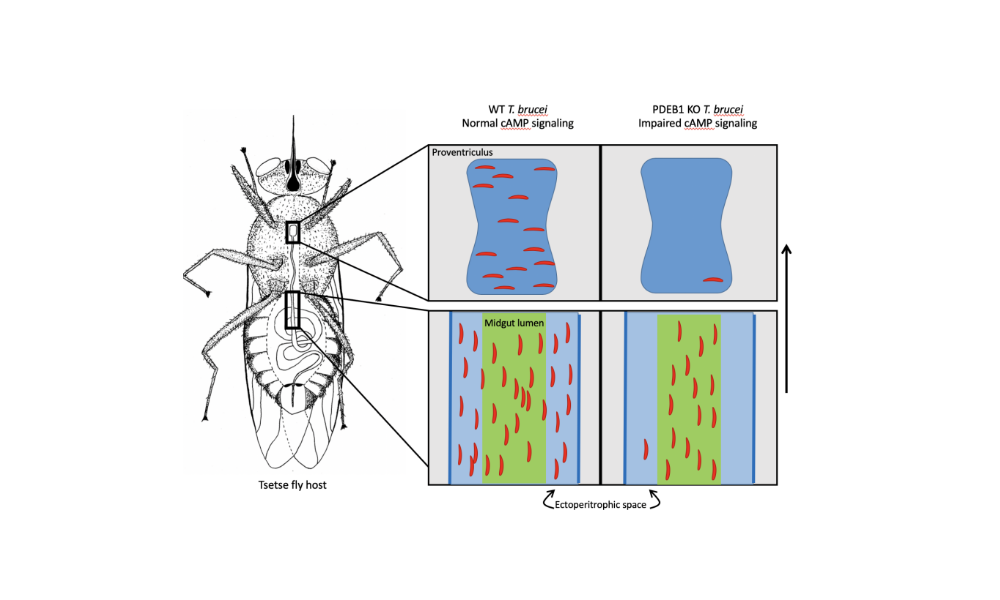 Flagellar fusion and bidirectional protein exchange represent a novel form of cell-cell communication. We discovered this phenomenon serendipitously when we co-cultured procyclic forms tagged with two different fluorescent proteins and observed that a small proportion of them became double-positive. We initially interpreted this as a form of precocious sex (since mating, if it occurs, does so later in the life cycle) or as a possible parasexual cycle, but could not find any evidence of genetic exchange. We now know that trypanosomes can fuse their flagella (Figure 4) and exchange membrane proteins and cytoplasmic proteins within 2-3 minutes (Imhof et al., 2016). Fused cells are able to swim together and are also capable of dividing while joined. Intriguingly, Argonaute, a component of the RNAi pathway, is transferred, suggesting small RNAs might be carried along as cargo. Why do trypanosomes do this? Might it be a mechanism for stressed or damaged cells to obtain help from healthy cells? Are they delivering differentiation signals? Alternatively, might it enable cells to synchronise their behaviour? There is evidence that this can occur in tsetse as well and we are currently working on a system that will allow to permanently mark cells that have undergone flagellar fusion.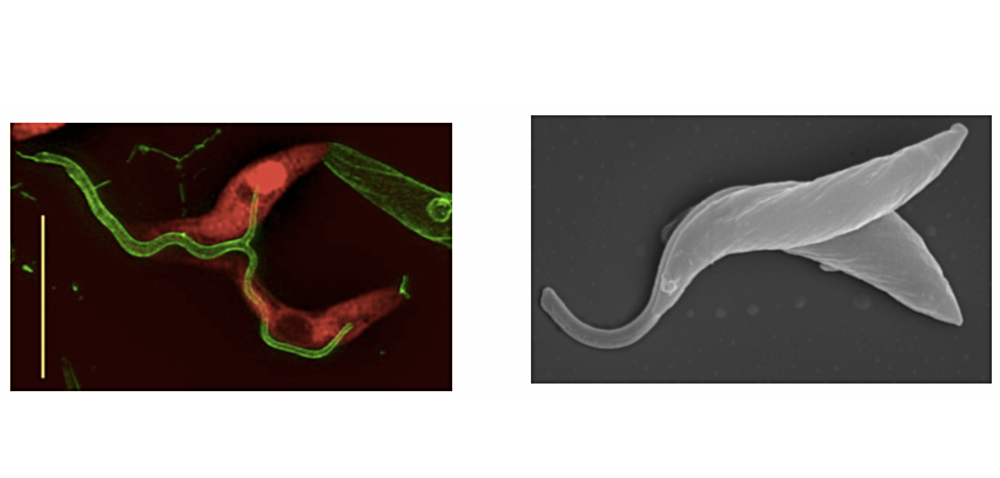 Team
Group Roditi
Post Docs
PhD students
Master students
Technicians
Publications
Number of items: 41.
Journal Article